Holidays directly at the sea? This dream can become true for you very soon! Spend your holidays in one of our swimming holiday – houses on the water! In the morning you can enjoy your breakfast on the terrace under the sun having a wonderful view of Wieker Bodden. In the evening have a glas of wine, think of a great and unforgettable day and enjoy the fantastic view of the sun setting down in the water. Our apartments are commodious, modern and very comfortable. A fireplace gives you a cosy warmth in the evenings. Several terraces or balconies invite you to lay in the sun, you will be impressed by the amenities of the kitchen or bathroom!
However, there are only a few clicks left for you to book some unforgettable holidays on the Island of Rügen!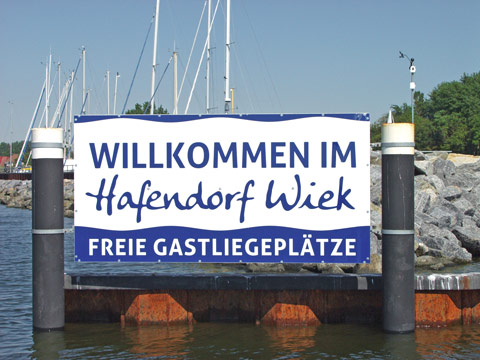 Hafendorf Wiek is located in one of the most beautiful parts of the Isle of Rügen. Very near the unique harbour with its historical bridge of chalk production times there are up to 90 moorings where you can stop and stay at the wooden walkway as well as at the mooring tubs or the wharf which is 150 metres long. All boxes are signified and equipped with ropes which makes it a lot easier to moor! And if there is a problem our harbourmaster has got a rope for you at any time! There are connection units for electricity and water all over the area of the harbour. Skippers like to come to Hafendorf Wiek because of its peaceful and hidden location, its very good reachability and the breathtaking panorama with the Isle of Hiddensee in the background!